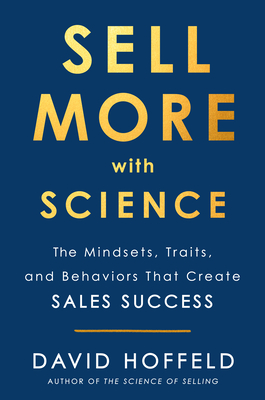 Sell More with Science: The Mindsets, Traits, and Behaviors That Create Sales Success
Publication Date:
March 22nd, 2022
Publisher:
TarcherPerigee
The Next Chapter Bookstore, LLC
1 on hand, as of Nov 29 10:13am
(Art & Art Instruction )
On Our Shelves Now
Description
The groundbreaking system scientifically proven to increase your performance and launch you to unprecedented levels of success.
Today, in sales, business, and life, you need every advantage you can get. In Sell More with Science, David Hoffeld, the world's leading expert on applying science to selling, shares his revolutionary three-part system to experience surefire success at home, at work, and out in the world.
Here, Hoffeld utilizes research studies from social psychology, neuroscience, and behavioral economics to reveal actionable insights you can use to grow your sales, achieve more, and stay ahead of the competition. You'll discover:
   • two evidence-based mindsets that will help you earn more sales
   • seven strategies that will boost your chances of reaching any goal
   • powerful principles that will enhance your ability to guide potential clients into positive buying decisions
   • ways to win day-to-day interactions—in business and beyond
   • how to reframe any idea or situation
   • what it means to sell with integrity
   • a science-backed formula you can follow to create positive career change
   • and much more 
Filled with practical insights and exercises, Sell More with Science is a game-changing guide for anyone who wants to take their influence, sales, or career to new heights.
Praise for Sell More with Science: The Mindsets, Traits, and Behaviors That Create Sales Success
"Most sales advice has little support beyond someone's assumption. By contrast, David Hoffeld's work and practice are grounded in solid behavioral research and focused on core aspects of selling applicable in many markets. His book can help you sell more and, equally valuable, make you feel better about your career."—Frank Cespedes, Harvard Business School; author of Sales Management That Works
"Nobody on God's green earth understands the behavioral science of selling better than David Hoffeld. If you want to know the facts about what is actually proven to be effective in sales, look no further. Sell More with Science is the evidence-based guidebook for personal achievement in sales.  It's absolutely brilliant and loaded with practical (and often surprising) guidance on the best practices in selling. Two thumbs way up!"—James Muir, CEO of Best Practice International; bestselling author of The Perfect Close
"Hoffeld is one of the most original voices since Sandler because he's making science actionable and cool for sales leaders everywhere. In Sell More With Science, the mindsets, skillsets, and angles that will help you become a top performer are all revealed. Heavily researched, backed and documented with humanized stories, this a compelling read."—Justin Michael, co-author of Tech-Powered Sales; cofounder of HYPCCCYCL

"This book cements David Hoffeld's reputation as the leading advocate for science-based selling. He demystifies the keys to improving your sales by providing specific, actionable insights, based on solid, peer-reviewed data. You won't be successful in sales without understanding how the brain of the buyer is responding to your efforts. Read this book. You really will sell more with science."—Dan Solin, author of Ask: How to Relate to Anyone
"In Sell More With Science, David Hoffeld reveals science-backed insights that will help you thrive in today's hyper-competitive environment. If you're serious about improving your career, this book is a must read."—Dave Kerpen, New York Times bestselling author of The Art of People 
"David Hoffeld gives his readers incredible insights into why we buy and how to leverage that knowledge to sell more. Like his last book, The Science of Selling, David uses proven science to support his strategies and techniques. Unlike most sales trainers and speakers who rely on unique anecdotes and personal experiences, David makes his scientific approach much more applicable and relatable to a wide range of situations. He empowers salespeople by turning science into practice. If you want to harness the power of science to sell more, this book is a must."—Terry Wu, Ph.D, neuroscientist, neuromarketing consultant, and speaker
"After reading Sell More with Science, I got rid of over 75 books and courses on selling because it had rendered them all obsolete. The book is packed with actionable, evidence-based strategies, formulas, exercises, and assessments that demystify sales success. In a hyper-competitive market, you need to adjust your sales strategies with science. Add this book to your library. Read it! And apply the ideas.  You will have an unfair (yet ethical) competitive advantage in your marketplace."—Ed Tate, principal, Ed Tate & Associates; World Champion of Public Speaking

"Sell More with Science is a book every person in sales should read, no matter their experience level. The truth and insights found inside will help all sales professionals from complex B2B to transactional consumer-facing roles and everything in between. I love this entire book. I appreciate the way difficult ideas are explained and then broken down into simple and actionable messages. If you want to sell more and sell better, then read Sell More With Science and watch your sales growth accelerate."—Mareo McCracken, CRO at Movemedical; author of Really Care For Them
"This book is essential reading for anyone seeking to drive improved sales results. It harnesses the power of behavioral science and neuroscience, blended with the art of selling for greater influence and improved sales results. Sell More with Science explains the 'why' and 'how' for elevating sales engagement and leadership. David's evidenced-based perspective enables leaders to intelligently and confidently blend art and science together for successful sales transformation."—Tony Hughes, bestselling author of The Joshua Principle; co-founder of Sales IQ Global
"In Sell More with Science, David Hoffeld once again demonstrates how taking a deliberate, planned approach to sales is the best predictor of success. As you would expect from David, this book is full of researched-based wisdom rather than simply anecdotal extrapolations. I highly recommend this book, as the successful salesperson of the future will need to have more dimensions and skills than ever before and this book outlines many of them."—John Golden, Chief Strategy and Marketing Officer Pipeliner Sales; bestselling author of Winning the Battle for Sales
"David has done it again with an important, relevant, and usable book that helps us understand not only the how to be a better sales professional but also the why. There are so many practical examples of real life conversation examples and suggestions that all sales professionals can use. What is especially important is David gives you the scientific research as to why these methods work. A must read."—Mark Welch, author of The Street Savvy Sales Leader

"Yes, sales is an art, but it is also a science! In this book, David looks at the other side of the sales coin. He will help you understand the rules of influence and how you can deploy them with intent to be more persuasive."—Victor Antonio, host of the Sales Influence podcast
"David Hoffeld continues to make it simple for any seller to succeed more by aligning the way we sell with the way buyers buy. This book will be an unfair advantage for anyone who sells. Just follow the science."—Stu Heinecke, bestselling author of How to Get a Meeting with Anyone and How to Grow Your Business Like a Weed

"In Sell More with Science, David Hoffeld reveals more of the scientifically validated behaviors that create predictable sales success. That's what makes this books so powerful—it's packed with the research that explains why some tactics are absolutely necessary and why others simply will not work. No theory. No complex models. Just loads of studies presented in a very easy-to-read style and, most importantly, applied to everyday sales situations. So grab a pen and a notepad—this is a book flush with concepts you will want to review time and time again. And if you have the discipline to learn and use them consistently, I guarantee you'll be amazed at the impact on your sales performance."—Kelly Riggs, founder of Business LockerRoom, Inc.®; author of Quit Whining and Start SELLING! A Step-by-Step Guide to a Hall of Fame Career in Sales

"Most sales books are full of techniques, tactics and hacks from the perspective and experience of one person, but fall short of helping the reader execute consistently. Sell More with Science bridges the gap between knowing and doing through research so that sellers can change their mindsets and behaviors to better align with their buyers. To be the best of the best at your craft, this book is a fundamental must read for elite sellers who seek to take the guesswork out of sales performance improvement."—Carole Mahoney, founder of Unbound Growth

"David has put it all together, distilling the complexities of the science of sales from mindset to execution, in an easily digestible, actionable book for the good of the salesperson, the client and the profession."—Todd Caponi, author of The Transparency Sale
"Read this book and take your sales to the next level! David Hoffeld masterfully tackles the inner game (mindsets, traits, and behaviors) that drives sales success. This book is essential reading for anyone involved in sales who wants practical advice and valuable tools to increase performance."—Brian Carroll, CEO of Markempa; author of Lead Generation for the Complex Sale
"David Hoffeld is the expert in applying science to the act of selling. In this extremely practical, well-researched book, he provides a roadmap that you can follow to take your sales and career to the next level."—Ron Friedman, Ph.D.; bestselling author of The Best Place to Work