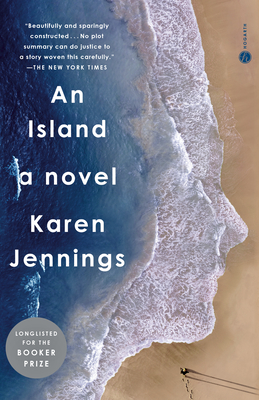 An Island: A Novel
Publication Date:
June 13th, 2023
The Next Chapter Bookstore, LLC
1 on hand, as of Nov 29 10:13am
(Art & Art Instruction )
On Our Shelves Now
Description
NEW YORK TIMES EDITORS' CHOICE • LONGLISTED FOR THE BOOKER PRIZE • A "beautifully and sparingly constructed" (The New York Times) novel about a lighthouse keeper with a mysterious past, and the stranger who washes up on his shores—An Island is the American debut of a major voice in world literature.
"An Island by Karen Jennings is quite simply a revelation—a ferocious, swift chess game of a novel."—Paul Yoon, author of Run Me to Earth
ONE OF THE BEST BOOKS OF THE YEAR: Vulture
Samuel has lived alone on an island off the coast of an unnamed African country for more than two decades. He tends to his garden, his lighthouse, and his chickens, content with a solitary life. Routinely, the nameless bodies of refugees wash ashore, but Samuel—who understands that the government only values certain lives, certain deaths—always buries them himself.
One day, though, he finds that one of these bodies is still breathing. As he nurses the stranger back to life, Samuel—feeling strangely threatened—is soon swept up in memories of his former life as a political prisoner on the mainland. This was a life that saw his country exploited under colonial rule, followed by a period of revolution and a brief, hard-won independence—only for the cycle of suffering to continue under a cruel dictator. And he can't help but recall his own shameful role in that history. In this stranger's presence, he begins to consider, as he did in his youth: What does it mean to own land, or to belong to it? And what does it cost to have, and lose, a home?
A timeless and gripping portrait of regret, terror, and the extraordinary stakes of companionship, An Island is a story as page-turning as it is profound.
Praise for An Island: A Novel
"Beautifully and sparingly constructed . . . In Jennings's hands, this antihero's enmeshment in his own failures has a textured credibility that's hard to look away from. . . . No plot summary can do justice to a story woven this carefully, whose strength lies in its deliberate pacing and sharp dispensation of detail. Samuel is as real as a shaking hand."—Lydia Millet, The New York Times
"A probing look at the roots of inhumanity and how the past can poison our compassion."—Star Tribune (Minneapolis)
"An Island by Karen Jennings, is quite simply a revelation—a ferocious, swift chess game of a novel that urgently asks us: What will we be held responsible for in the end? This is a story of hauntings, of the unraveling of secrets and the self, and I couldn't put it down."—Paul Yoon, author of Run Me to Earth
"Centuries of colonialism, post-colonialism, refugee crises, political upheavals: Rare is the author who can start with such complex material and relentlessly pare it back to its essentials, as Karen Jennings does. Beginning with the arrival of a stranger on Samuel's island, and then over the course of four tense days, we feel the weight of each decision he makes, as well as the unease, the paranoia, the ever-present threat of violence. Humble may the characters be, and rocky and windswept their island, but even here, in such unseen places, are terrible battles played out. Honest and unflinching."—Claire Adam, author of Golden Child
"Through carefully crafted prose and keen political observations, Karen Jennings's An Island captures history and its consequences in a narrative of quiet violence, displacement, and isolation. This compact book carries the punch of a much larger work, and it does what a good book should: It compels the reader to read on and on until the end, and then to restart once more."—Rémy Ngamije, author of The Eternal Audience of One
 
"Allegorical and yet profoundly concrete, An Island is an insightful meditation on the illusion of isolation and the possibility of redemption, gracefully told and terrifically moving."—Alexandra Kleeman, author of Something New Under the Sun
"Jennings adroitly weaves Samuel's painful past into a disquieting present and through her characters captures universal human truths."—Booklist