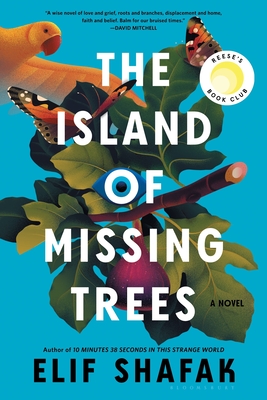 The Island of Missing Trees: A Novel
Publication Date:
February 28th, 2023
Publisher:
Bloomsbury Publishing
The Next Chapter Bookstore, LLC
1 on hand, as of Nov 29 10:13am
(Art & Art Instruction )
On Our Shelves Now
Description
A REESE'S BOOK CLUB PICK
Winner of the 2022 BookTube Silver Medal in Fiction * Shortlisted for the Women's Prize for Fiction

"A wise novel of love and grief, roots and branches, displacement and home, faith and belief. Balm for our bruised times." -David Mitchell, author of Utopia Avenue
A rich, magical new novel on belonging and identity, love and trauma, nature and renewal, from the Booker-shortlisted author of 10 Minutes 38 Seconds in This Strange World.
Two teenagers, a Greek Cypriot and a Turkish Cypriot, meet at a taverna on the island they both call home. In the taverna, hidden beneath garlands of garlic, chili peppers and creeping honeysuckle, Kostas and Defne grow in their forbidden love for each other. A fig tree stretches through a cavity in the roof, and this tree bears witness to their hushed, happy meetings and eventually, to their silent, surreptitious departures. The tree is there when war breaks out, when the capital is reduced to ashes and rubble, and when the teenagers vanish. Decades later, Kostas returns. He is a botanist looking for native species, but really, he's searching for lost love.
Years later a Ficus carica grows in the back garden of a house in London where Ada Kazantzakis lives. This tree is her only connection to an island she has never visited--- her only connection to her family's troubled history and her complex identity as she seeks to untangle years of secrets to find her place in the world.
A moving, beautifully written, and delicately constructed story of love, division, transcendence, history, and eco-consciousness, The Island of Missing Trees is Elif Shafak's best work yet.
Praise for The Island of Missing Trees: A Novel
"A beautiful contemplation of some of life's biggest questions about identity, history and meaning." —Time, "Most Anticipated Books of Fall"
"A brilliant novel - one that rings with her characteristic compassion for the overlooked and the under-loved, for those whom history has exiled, excluded or separated." —Robert McFarland, author of UNDERLAND
"An excruciatingly tender love story that transcends cultures, generations and, most remarkably, species." —Naomi Klein, author of ON FIRE
"Shafak's novel conveys how our ancestors' stories can reach us obliquely, unconsciously … Shafak is cleareyed about how difficult it is to reach across the gulfs within our families." —The New York Times Book Review
"A poignant novel of love, grief, and the generational trauma ... a worthy read for our times, when so many conflicts have driven people to flee, carrying with them the horrors of war and the grief of leaving their homelands and loved ones behind." —Foreign Policy
"A commentary on the bitter legacy of war .... [and] also a commentary on the folly of our adversarial relationship with nature and our refusal to learn from the flora and fauna with which we share the planet ... [Shafak] understands the interconnectedness of all things great and small." —Claire Messud, Harper's
"The Island of Missing Trees isn't just a cleverly constructed novel; it's explicitly about the way stories are constructed, the way meaning is created, and the way devotion persists ...[Shafak is] that rare alchemist who can mix grains of tragedy and delight without diminishing the savor of either. The results may sometimes feel surreal, but this technique allows her to capture the impossibly strange events of real life." —Ron Charles, The Washington Post
"This tragic tale tempered by enduring love and a fantastical ending is an overall triumph." —Shelf Awarness (starred review)
"Shafak's writing is magnetic, and while reading, one is completely absorbed by the world of both Cyprus and London." —Alma.com, "Favorite Books for Fall 2021"
"A beautiful nod to an individual finding a place in a big world." —The New York Post
"Shafak amazes with this resonant story of the generational trauma of the Cypriot Civil War." —Publishers Weekly, starred review
"Ambitious, thought-provoking, and poignant." —Kirkus Reviews
"An enthralling, historically revelatory, ecologically radiant, and emotionally lush tale of loss and renewal." —Booklist (starred review)
"Rich and tender… Shafak bridges the disconnect so many of us feel in these times between our technology-glutted, hamster-wheel lives and the grounding comfort of the natural world." —Washington Independent Review of Books
"Blends facts about Cyprus with moving reflections on the toll of civil war, the challenges of being uprooted, and the interconnectedness of all life." —Christian Science Monitor
"Shafak's voice is tender but piercing, laying out each character's joy and hurt as the novel unravels and reweaves itself across generations, borders, and butterfly migrations." —Seattle Book Review
"A powerful and intoxicating story of the dangers of climate change." —KWBU (Waco)'s Likely Stories
"A wise novel of love and grief, roots and branches, displacement and home, faith and belief. Balm for our bruised times." —David Mitchell, author of UTOPIA AVENUE
"This is an enchanting, compassionate and wise novel and storytelling at its most sublime. Though rooted in bloody atrocity it sings to all the senses." —Polly Samson, author of A THEATRE FOR DREAMERS
"A wonderfully transporting and magical novel that is, at the same time, revelatory about recent history and the natural world and quietly profound." —William Boyd, author of TRIO
"A beautiful and magical tale infused with love. Stunning." —Ruth Jones, author of US THREE
"A novel that moves with the urgency of a mystery. But there is tenderness and humor in this tale, too, and the intense readerly pleasures of a narrative that dances from the insights of ecological science to Greek myth and finally to their surprising merger in what might be called-natural magic." —Siri Hustvedt, author of MEMORIES OF THE FUTURE
"A beautiful novel about the broken island of Cyprus and its wounded and scarred inhabitants, The Island of Missing Trees teaches us that brokenness can only be healed by love." —Bernhard Schlink, author of OLGA
"An outstanding work of breathtaking beauty." —Lemn Sissay Obe
"Shafak makes a new home for us in words." —Colum McCann
"One of the best writers in the world today." —Hanif Kureish