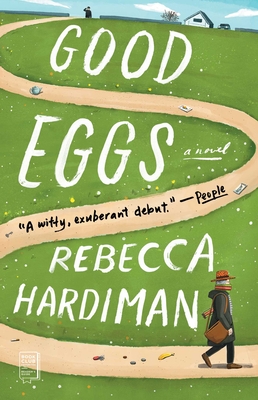 Good Eggs: A Novel
Publication Date:
March 15th, 2022
The Next Chapter Bookstore, LLC
2 on hand, as of Nov 29 10:13am
(Art & Art Instruction )
On Our Shelves Now
Filled with warmth and hilarity, this book reads like a mix of The Unlikely Pilgrimage of Harold Frye and a Maeve Binchy novel. The Irish setting is especially welcome on this side of the pond, and of the three plotlines following different generations, the absolute best paints 83-year-old pistol of a grandma Millie as a delightfully quirky and determined soul. A charming, offbeat novel — perfect to savor as we emerge from this particular winter.
March 2021 Indie Next List
Description
When a home aide arrives to assist a rambunctious family at a crossroads, simmering tensions boil over in this "witty, exuberant debut" (People) that is an "absolute delight from start to finish" (Sarah Haywood, New York Times bestselling author)—perfect for fans of Where'd You Go, Bernadette and Evvie Drake Starts Over.
When Kevin Gogarty's eighty-three-year-old mother is caught shoplifting yet again, he has no choice but to hire a caretaker to keep an eye on her. Kevin, recently unemployed, is already at his wits' end tending to a full house while his wife travels to exotic locales for work, leaving him solo with his sulky, misbehaved teenaged daughter. Into the Gogarty fray steps Sylvia, the upbeat home aide, who appears at first to be their saving grace—until she catapults the Gogarty clan into their greatest crisis yet.
"Bracing, hilarious, warm" (Judy Blundell, New York Times bestselling author), Good Eggs is an irresistibly charming study in self-determination; the notion that it's never too late to start living; and the unique redemption that family, despite its maddening flaws, can offer.
Praise for Good Eggs: A Novel
"Good Eggs is a remarkably clear-eyed and surefooted debut; pure, unadulterated reading pleasure. Hardiman writes with great warmth, humor, and incisiveness about reinvention and the unique foibles of family." —JONATHAN EVISON, author of This Is Your Life, Harriet Chance! and The Revised Fundamentals of Caregiving
"Good Eggs is a joyous, exuberantly fun-filled novel of second chances. In the Gogartys, Rebecca Hardiman has created a vivid cast of characters whose schemes, adventures and mishaps keep us on the edges of our seats. We can't help but cheer each of them on—especially the exasperating and beguilingly naughty Millie Gogarty—as they untangle the various muddles in which they find themselves. With all their quirks and flaws, this is a family that earns a place in our hearts. An absolute delight from start to finish!" —SARAH HAYWOOD, New York Times bestselling author of The Cactus
"Bracing, hilarious, warm, this novel is as wayward and mad as the human heart. Hardiman takes elements I thought I knew—the sulky teen jealous of the pretty sister, the dotty grandmother, the house-husband succumbing to temptation—and takes a left turn, every time. You just want to pull up a chair to this novel, if you know what I mean. An absolute delight." —JUDY BLUNDELL, New York Times bestselling author of The High Season
"The novel is sheer delight, from the moment we meet the prickly, fabulous Millie Gogarty until her final surprise on the last page. What a pleasure to be immersed in the story of a tangled family who you just KNOW are going to come through in the end. I loved Good Eggs!" —AMANDA EYRE WARD, New York Times bestselling author of The Jetsetters, a Reese's Book Club x Hello Sunshine Pick
"Hardiman's rollicking debut dives into the stories of a good-hearted but mischievous Dublin family... in this hilarious, zippy novel, nothing is as it seems... Full of surprises, Hardiman's endearing novel stands out for its brilliant insight into the mixed blessings of family bonds." — Publishers Weekly 
"I am so in love with this book - I just want to tell everyone I know to rush out and buy it. It's fresh, funny and irresistibly good humoured - the perfect lockdown read to put a big happy smile on your face! This gem has bestseller written all over it." —CLAUDIA CARROLL, author of The Secrets of Primrose Square 
"In her poignant and often hilarious family-drama-turned-caper debut, Hardiman masterfully inhabits the lives of three generations of the Gogarty family... the sprightly plot is deepened by explorations of the human condition." —Booklist (Starred Review)