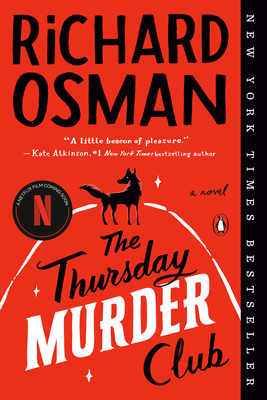 The Thursday Murder Club: A Novel (A Thursday Murder Club Mystery #1)
Publication Date:
August 3rd, 2021
The Next Chapter Bookstore, LLC
2 on hand, as of Oct 1 8:12pm
(Art & Art Instruction )
On Our Shelves Now
Staff Reviews
I love a cozy mystery with depth, and this book delivers! A group of septuagenarians meets every Thursday in their posh retirement home to try to solve cold case murders. When someone is murdered on the grounds, they are on the case and start to infiltrate the police! Full of heart, wit, and raucous laughs, I am in love with this novel!
— Alexis
Description
A New York Times bestseller | Soon to be a major motion picture from Steven Spielberg at Amblin Entertainment
"Witty, endearing and greatly entertaining." —Wall Street Journal
 
"Don't trust anyone, including the four septuagenarian sleuths in Osman's own laugh-out-loud whodunit." —Parade
Four septuagenarians with a few tricks up their sleeves
A female cop with her first big case
A brutal murder
Welcome to...
THE THURSDAY MURDER CLUB
In a peaceful retirement village, four unlikely friends meet weekly in the Jigsaw Room to discuss unsolved crimes; together they call themselves the Thursday Murder Club.
When a local developer is found dead with a mysterious photograph left next to the body, the Thursday Murder Club suddenly find themselves in the middle of their first live case.
As the bodies begin to pile up, can our unorthodox but brilliant gang catch the killer, before it's too late?
Praise for The Thursday Murder Club: A Novel (A Thursday Murder Club Mystery #1)
Praise for The Thursday Murder Club:

"Witty, endearing and greatly entertaining."
—Wall Street Journal
"An amusing debut that finds gold in getting older."
—People
"If you like a good mystery but also want to laugh and go 'aw,' the Thursday Murder Club books by Richard Osman are definitely for you."
—Daisy Rosario, NPR Pop Culture Happy Hour
"Don't trust anyone, including the four septuagenarian sleuths in Osman's own laugh-out-loud whodunit."
—Parade
"[A] jaunty mystery. . . What's delightful is that there are no stereotypes here — the senior citizens solve the murder with wit, style and ferocious intelligence. The puzzle is intricate and involving, but there's a breeziness about it that makes it an ideal hammock read."
–NPR
"Funny, clever, and compelling. Mystery fans are going to be enthralled."
—Harlan Coben, #1 New York Times bestselling author of The Boy from the Woods
"A little beacon of pleasure in the midst of the gloom. . . SUCH FUN!"
—Kate Atkinson, #1 New York Times bestselling author of Big Sky
"Charming, funny, and ultimately, surprisingly, very moving."
—Linwood Barclay, New York Times bestselling author of Find You First
"I don't know how to do this brilliant book justice. Diabolically clever, very funny, highly entertaining—utterly delightful.  I completely fell in love with it. I need more of The Thursday Murder Club!"
—Shari Lapena, New York Times bestselling author of The Couple Next Door
"Loved every word. Loved the fleet, nimble plotting, as ingenious as top-shelf Agatha Christie; loved the boisterous cast of characters—think Fredrik Backman; loved the crisp, witty, Carl Hiaasen-caliber dialogue... yet above all, I love The Thursday Murder Club for its psychological texture, emotional depth, and luminous, fireside warmth. What a generous novel. Readers of Louise Penny and Kate Atkinson, rejoice."
—A. J. Finn, #1 New York Times bestselling author of The Woman in the Window
"Suspenseful, funny, and poignant. The delightful, spirited characters from this witty, sometimes bittersweet story deserve a return engagement."
—Booklist (starred review)
"An imaginative and witty whodunit… Osman's careful attention to the realities of life in a retirement village ensures that The Thursday Murder Club is a compassionate, thoughtful tribute to a segment of the population that's often dismissed and ignored… Great fun." 
—BookPage (starred review)
"The character-driven mystery, featuring a group of sleuths all too aware of their own mortality, and a likable pair of cops, is suspenseful, funny, and poignant… The delightful, spirited characters from this witty, sometimes bittersweet story deserve a return engagement."
—Library Journal (starred review)
"Osman mixes mirth and murder in his exceptional debut. . . witty."
—Publishers Weekly (starred review)
"A fascinating primer in detection… A top-class cozy infused with dry wit and charming characters who draw you in and leave you wanting more, please."
—Kirkus Reviews (starred review)
"A rather beguiling piece of work, reading like Kingsley Amis's The Old Devils refracted through an Agatha Christie prism… The ageing protagonists are a winning bunch, and Osman's skills have already led to greenlighting of further outings for his sleuths."
—Financial Times

"A sparkling debut… Fiendishly clever and brilliantly funny."
—Minneapolis Star Tribune
"Witty… The characters and the writing are a treat… Everyone in the central quartet, especially the two women, are more complex than they originally seem, and while the tone is predominantly light and funny, Osman finds some moments of sweet poignancy."
—Seattle Times
"With wry British humor, and a cast of intrepid retirees, Richard Osman's delightful mystery caper offers surprising depth… The wit and the plot will bring readers back for more of this series."
—The Christian Science Monitor
"As the bodies pile up, and more is revealed of the lives and loves of Joyce, Ibrahim, Ron and Elizabeth, you can't help cheering them on--and hoping to meet them again soon."
—The Times (UK)
"A witty and poignant tale."
—The Daily Telegraph (UK)
"One of the most enjoyable books of the year. . . well-written, hilarious, and joyously big-hearted. . . The charm of The Thursday Murder Club is that it's so much more than a crime novel."
—The Daily Express (UK)
"Brilliant, smart, charming, and wryly funny."
—Good Housekeeping (UK)
"So smart, so funny, so warm, and such a wonderful mystery. If we're lucky Richard Osman will keep these characters alive forever."
—Caroline Kepnes, New York Times bestselling author of You
"So smart and funny. Deplorably good."
—Ian Rankin, New York Times bestselling author of Westwind
"Grinning like a monkey having just finished The Thursday Murder Club by Richard Osman. Loved its clever, clever plot, great gags, Ealing comedy set ups and Elizabeth. Can't say more but I want to be her one day…"
—Fiona Barton, New York Times bestselling author of The Widow
"A rich, textured, twisted, and fabulously funny tale of murder and mayhem."
—Alan Bradley, New York Times bestselling author of The Sweetness at the Bottom of the Pie
"By turns hilarious and poignant, The Thursday Murder Club offers up a brilliant concept that's flawlessly executed and told in a unique, captivating voice. These are rare qualities in any novel, let alone a debut. I read the first page, then put all else on hold to devour this pitch-perfect book in one sitting. Bravo!"
—Jeffery Deaver, #1 international bestselling author of The Goodbye Man
"Smart, compassionate, warm, moving and so very funny. I smiled a million times. This book will make a lot of people very, very happy."
—Marian Keyes, international bestselling author of Grown Ups

"A warm, wise, and witty warning never to underestimate the elderly."
—Val McDermid, international bestselling author of How the Dead Speak
"Utterly charming and very very clever."
—Sarah Pinborough, New York Times bestselling author of Cross Her Heart
"Funny, clever, and achingly British--what else would you expect from a book by Richard Osman?"
—Adam Kay, internationally bestselling author of This Is Going to Hurt: Secret Diaries of a Medical Resident

"A superb debut. Thrilling, moving, laugh-out-loud funny and packed with characters you will want to see a lot more of."
—Mark Billingham, international bestselling author of Their Little Secret
"What a joy! Full of brilliantly observed humor, spot-on dialogue, and twists and turns aplenty. Joyce and the gang are now my favorite crime-solving team."
—Nina Stibbe, author of Reasons to Be Cheerful